Achievers :- Reserve Bank is teeming with achievers. We will feature them regularly on this page. If you know of some low profile achiever from your office, mail us at

airboa.bng@gmail.com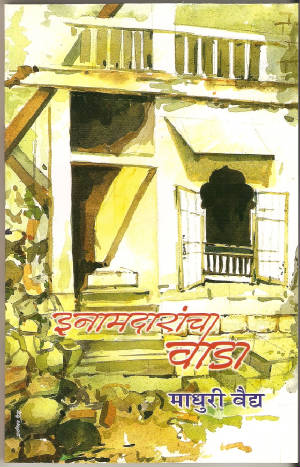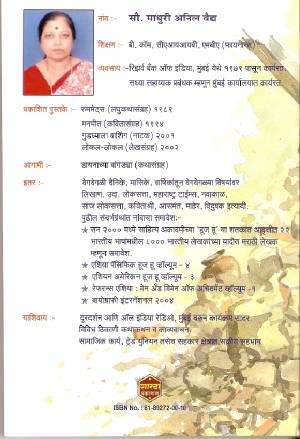 A Glimpse into "INAMDARANCHA WADA"

by Smt Madhuri Vaidya
"Inamdarancha Wada" is a Marathi novel, which takes the reader a few decades back. Its not just a story of an old building but it showcases the lives of the people staying in the old big house. It reveals the various dimensions of their mind and circumstances, which create dilemma in their mind. It is a battle of thoughts regarding Niti-Aniti, Dharma –Adharma, Good and Bad. It is a cold war between personalities, their cultural, human values, and Tradition vs Modernity. It depicts the changing roles of human beings in the changing environment of the society. It also highlights some important issues such as inter-religion marriages, family planning, and poverty, cheating by bogus saints, haves and have nots, etc. All the characters in the novel observe their line of limit. Nobody crosses it even he or she wanted to. The end of the story with a natural calamity like earthquake destroys the villains and saves the lives of genuine people, which are also desired by the readers throughout the novel. Events cascade rapidly one after another in the lives of characters of the novel which leads the reader to the ultimate truth and justice of the destiny Smt Madhuri Vaidya the author of this novel has already published three books and presented a drama in the theatre and handled various themes in her writing till now. She has also written in all forms of literature e.g. poetry, articles, short stories, satire, one act play, drama novel etc. She has also contributed to various newspapers and magazines.
Smt Madhuri Vaidya is the recipient of Saint Rohidas Award in 2004. She is also the recipient of Rajabhai Mirashi Smruti Awards by Dhuri Express on 31st Jan 2010. "Inamdarancha Wada" was published during the Platinum Jubilee year of Reserve Bank of India.

Congratulations and all the best to Smt Madhuri Vaidya.

====================================

Featured below is Dr BS Talwadi, Asst Manager, Cash Dept, Bangalore who has penned a treatise "SIRIBHUVANAJYOTHI". Dr Talwadi has written eighty books & more than 200 articles mainly on Christianity/Christian Folklore. He holds a doctorate in Christian Folklore studies. All the best to Dr Talwadi in his endeavours. Scroll down below to see the book and a profile of Dr Talwadi.